The Internet of Things (IoT) portal
On the Live Screen click the 'Users' button

Current users are displayed in the table. After enrolling your email address will be listed.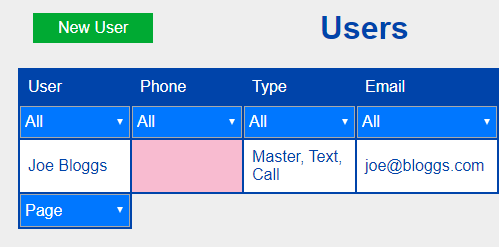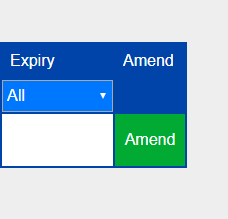 The 'Phone' column will be highlighted in red to indiciate you should add your number by clicking the 'Amend' button. Please check your email address carefully for errors!
If you add yourself as a
'Master User'
you will be able to recover your account if there is a problem with your email address.
A
Text number
is sent an SMS text message when the inputs are triggered
A
Call number
is dialled with an input is triggered. During the call we will read out the message or can play an mp3 file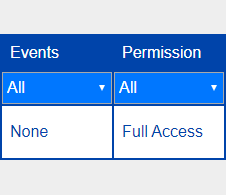 To add more users click the 'New User' button at the top of the page. When adding a new users each column is optional. There is no need to add a number and email address for each user. Leaving a column blank is generally OK.
If you would like the user to have Full Access to all settings, then select 'Full Access' from the drop down menu. Open/Close allows the user access to the 'Open Gate' page and 'None' removes all access without deleting the user.
Events
You can tailor specific email events for each user by amending the 'Events' box. There are some preset events for each system, such as, 'Alarm', 'Set/Unset'. To customise the email events the corresponding event number is required to be entered
Input 1 Low 40
Input 1 High 41
Input 2 Low 42
Input 2 High 43
Input 3 Low 44
Input 3 High 45
Input 4 Low 46
Input 4 High 47
Input 5 Low 48
Input 5 High 49
Input 6 Low 4A
Input 6 High 4B
Input 7 Low 4C
Input 7 High 4D
Input 8 Low 4E
Input 8 High 4F
Expiry
After the expiry date, the user will be deleted.